April 3rd, 2008
I know I'm not everybody's cup of tea and I don't want to be.
Rick Owens
Sitting is one of the many infamous and inhuman inventions of the modern age.
Egon Friedell
---
PERSIFLAGE
is updated on Thursdays.
---
Classifieds
Wanted: a reason to believe in fusilli again. Box 209.
Now available: DVD The Mild Curiosity of Werner Schirmerling (1963) - the story of the scientist who almost discovered radium but lost interest (Horst Bucholz as Schirmerling) Box 9.
For sale: several phone numbers ending in 9. $3ea. Box 8.
For sale: memorabilia from my time in Mrs Crompton's kindergarten class including sock lint, one half of a pair of tiny blunt scissors, spray painted bowtie macaroni and a picture of some children I no longer really remember. Fantastic prices. Send for the catalogue. Box 22.
Tired of waiting in lines? Send away now for Broughton's Guide to Cutting and its companion volume The Illustrated Compendium of Cuts. Special two for one deal available till the end of this sentence. Oops too late. Box 3589067.
---
---
---
Email us
persiflagemag@hotmail.com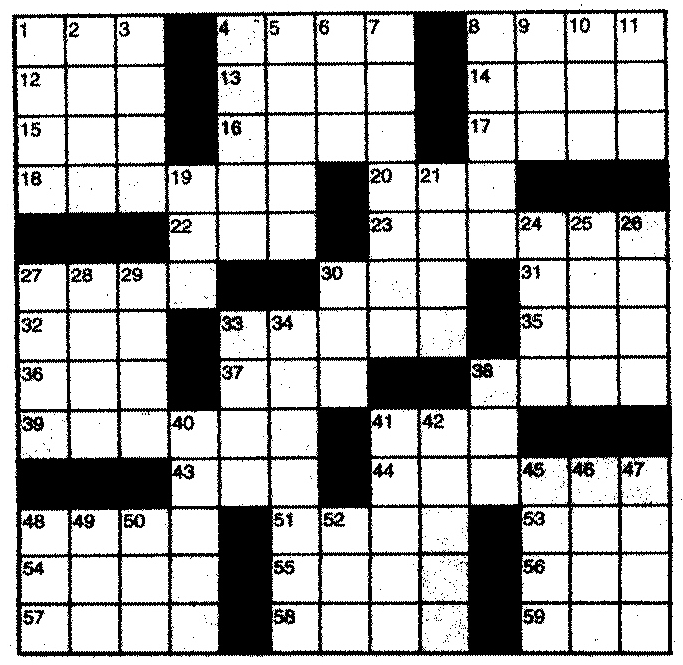 Across
1.wacky funster ____ Il Jung
4. written on a ball cap
8. dull game with pegs
12. My girlfriend is ________ musical about the Conquest of Mexico (2 wds.)
13. hang'n nekkid 'round Eden (if youse a goil)
14. where you are
15. bunch
16. thing you go in
17. express desire (dialect)
18. slang term for runners
20. suicidal tough guy
22. PST + GST =
23. Home of the Ducks
27. ineffectual police unit
30. Chaplin's wife loses her O
31. homonym of the number after seven
32. long Cockney walk in the woods
33. currently holding my corset in place
35. more than one Li
36. wood smallener
37. lent to Brutus
38. mess of actors
39. I blame this
41. French see ya
43. another krazy acronym
44. those lacking a cause (often)
48. something to do with your words on a Saturday night
51. hated bean
53. animal jail
54. nuthin' but a samwich
Across (continued)
55. Sir Anthony _____
56. with my staff a great source of comfort
57. sounds like tint but starts with an h
58. lazy fellers
59. it's ATA I can't come up with a clue
Down
1. Wile E. Coyote orders them from ACME
2. something something ground floor
3. hair to a lazy meat eater
4. what he does on a date
5. pirate talk
6. delicious fruit missing an A
7. Anglicised version of the first name of the actor who played Huggy Bear on the old TV show Starsky and Hutch
8. bell noise
9. hip name for man of God
10. lyricist and famous brother
11. Big Clock
19. more than one AH
21. you were (Latin)
24. I've never been to one as I don't own a tux
25. Miss _____ Regrets
26. what Pistor's pals called him
27. makeup band
28. not horrifyingly offensive
29. Pepe's family Le _____
30. stick your big one in
33. _____ and ye shall find (ha!)
34. here today gone ______
38. a bit like adobe
40. variety of cards
41. what Venus de Milo isn't
42. jimmy, james, moriarty and jones
45. pound for pound a great poet
46. ill gotten booty
47. might as well go for one
48. librarian noise
49. hilarious Hawaiian pun
50. something Greeks made (or possibly still make)
52. more fun than Esperanto