April 1st, 2010
---
Anybody seen in a bus over the age of 30 has been a failure in life.
Loelia, Duchess of Windsor
I don't want money bad enough to work for it.
William Faulkner
---
Classifieds
For sale: one copy of Dermond Plantagenet's Spread the Love: A Guide to the Erotic Uses of Oleos. Some staining. $30 OBO. Box 29.
Herman's Citywide French Fry Delivery Service is changing it's name to Sir Fries! and is expanding its delivery area to include Selkirk (the town, we already deliver to Selkirk Avenue. Or we would, if anyone ever ordered french fries for home delivery.
For rent: small plastic cups. By month only. Box 30.
Will trade my priceless collection of price tags for any large format photographs of pre-WWII folding chairs or associated folding chair memorabilia. Box 9.
Friday is not only Good Friday it is International Fake Moustache Day! Wear yours out and about on errands and whatnot in solidarity with those who are forced, for a variety of reasons, to wear one daily.
Consider becoming a patron of PERSIFLAGE. No, seriously, for a one time payment of 10$ we will mention your name on the site (although not necessarily favourably). To begin the negotiations send an e-mail with the words "Money Money Money Woohoo!" in the subject line to the address below.
Milk and Cookies with Uncle Glennie. April 1, aceartinc 2nd floor, 290 McDermot Ave, Winnipeg. 7PM. Stories 8 + 9PM.
---
The Mystery of the Lost Lenore
Listen to Part Fify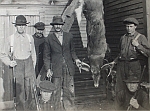 Click on the picture. (3:33)
---
---
---
The Mailbag
Dear Persiflage,

I have, for a long time now, been an admirer of the blue sky. It's not that I don't like other colour skies, it's just that I REALLY like blue skies. Can you explain to me why the sky is blue? I have been asking people this question for years and I have yet to receive a satisfactory response. They all involve some kind of hokum or mumbo-jumbo about optics and gas molecules and whatnot. Please help me out here.

Sincerely,
Blue Boy
Dear BB,

The sky is blue when you are in a good mood and grey (or gray as our American friends say) when you are sad or depressed. This is known as "pathetic fallacy" because a) it's an unsound argument and b) it's kind of pitiful. Google Lord John Rayleigh.

Sincerely,
Hugh Briss
---
Dear Persiflage,

I am madly in love with a man who does not know I exist. How can I make him notice me?

Sincerely,
Zeus
Dear Z,

Have you considered changing yourself in some way that is striking? How about an eagle?

Sincerely,
HB
---
Dear Persiflage,

I am about to turn thirty. There. Done.

Sincerely,
Mr. Precise
Dear Mr. P.,

Congratulations.

Sincerely,
HB
---
Dear Persiflage,

Ralph Waldo Emerson once said something that intrigued me. He told me personally when he appeared to me one evening in the guise of a half eaten muffin that Thoreau had very poor personal hygiene and that he had actually been sent to Walden Pond to wash up. Is there anything in the historical record to lend credence to this?

Sincerely,
Curious About Transcendentalism
Dear CAT,

I have listened to the historical record (now on CD) thoroughly and I can tell you without equivocation (I lost it somewhere or possibly I never had it, I'm not sure) that Thoreau was well known as a pretty clean guy. The muffin who spoke to you had his or her facts wrong. Although it is possible that he/she was speaking of Christopher Pearse Cranch, who smelled.

Sincerely,
Hugh Briss
Dear Persiflage,

I am a rose who is sick. The invisible worm that flies in the night and the howling storm recently found my bed which had previously been filled with crimson joy and dropped off some kind of yucky blight stuff. Suggestions?

Sincerely,
Rosie
Dear Rosie,

Try misting yourself with a diluted mixture of this: 1 medium onion, chopped; 3 - 4 cloves garlic, crushed; 1/2 Jalapeno pepper, crushed; 1 1/2 tsp baking soda; 1 or 2 drops dishwashing liquid.

Sincerely,
HB
---
Dear Persiflage,

I am writing to complain about the misrepresentation of the work and philosophy of Gurman Telephromto, aka the Milanese Hypochondriac by Mr. Craquar in your February 25th edition. Mr. Craquar states that man's purpose in life was to "find the cheese" but in point of fact Telephromto stated that it was to find cassieum, the Latin word for spider's web not caseum, the word for cheese. Many other scholars have made this leap because of Telephromto's fear of cats and the frequent appearance of mouse analogies in his work. Otherwise an excellent article.

Sincerely,
Dr. Randy Crimps
University of Southern Peet, NSW, Australia
Dear Dr. Crimps,

We believe their may be an error in your copy of Telephromto's brilliant 1464 treatise De Vitatione Felium Et Indagine Felicitatis as our text clearly reads caseum.

Sincerely,
HB
---
Dear Persiflage,

In a letter in the previous column you stated that Christopher Pearse Cranch smelled. Do you have any evidence to back this statement up or are you just maligning that great (or at least pretty good) man's name?

Sincerely,
CPC fan
Dear CPCer,

No.

Sincerely,
HB
---
Dear Persiflage,

I am a single man who recently moved from his(my) bedroom into his(my) kitchen in search of a snack. I have no bread or cheese or peanut butter. Suggestions?

Sincerely,
Tad Peckish
Dear Tad,

Dry mustard sprinkled on canned tuna will do in a pinch. Wash it down with white sugar mixed in warm tap water. Yum.

Sincerely,
HB