Sometime in October, 2014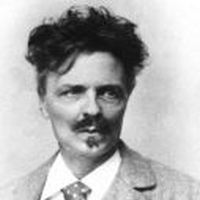 I have made an attempt! If it has failed, there will, I hope, be time enough to make another!
August Strindberg
---
PERSIFLAGE
is updated from time to time.
---
Tip For Fall Living
This time of year is great for soups and stews. If you have a soup or stew let him or her run around out in the yard for a bit. They love it!
---
Classifieds
For Sale: A signed copy of the magnum opus Magnum Opus by the celebrated Norwegian author Magnus Opum. 7$ OBO. Box 21.
The Assiniboine Park Conservancy announced this week that, due to declining standards of dress and deportment amongst the general public, the Formal Gardens will now be known as the Business Casual Gardens effective immediately.
For Rent: 3bdrm, 2 1/2bath, 5 1/2 story sonotube stuck into some sand on the edge of a kind of berm or something very near a construction site on Assiniboine Avenue. 2$/month. Box 30.
Tired of having to wash your underclothing? Why not try Stanley Krumbarr's Disposal Gotch? Available for a variety of sizes and genital arrangements. Reasonable prices. Get our catalogue. Box 32910.
I have nothing to sell or rent but I always wanted a classified ad of my own. Hi! Box 12.
Save the Date: I am currently on a date with a nice lady and it is going very badly. We are @the Stella's in Plug-In. If someone could stop by and pretend to know me and tell a story about what a neat guy I am that would be great. We are sitting on the east side by the windows. I am the only man wearing a monocle.
Willing to trade 11 of my bus passes for the year 2007 (all signed by a guy who said he was Dave Wardrop's neighbour) for next month's. Box 11.
I am a rabbit who lives in a magician's hat in the Las Vegas area. I would like to visit Winnipeg. Is anyone willing to swap residences with me for some time in late January or early February of next year? Hat smells vaguely of carrots. Box 907.
Hey guess what? Done guessing? Okay. On November 7th Uncle Glennie will be presenting another one of his celebrated Storytimes! This one is called Storytime for Childish Adults and marks a fairly shameless attempt on his part to plug his e-book of the same name. If you are in the vicinity of Artspace (100 Arthur Street in Winnipeg) between 5PM & 7PM that day why not pop by the Black Lodge Studio on the 3rd Floor and hear some stories. There will be milk (likely in the form of White Russians) and cookies (in the form of cookies). It promises to be... something.
---
New on CTV This Fall!
He's an overeater and she's an alcoholic. Together they make a mediocre team of big city detectives with a heap of serious emotional issues. Join them as they struggle to solve the simplest of crimes. It's non-stop hilarity this fall on Sips and Nibbles. Tuesday nights starting in October!
---
---
---
Click here to visit the publications website: PERSIFLAGE PRESS
To email us, use this address: persiflagemag@hotmail.com
To follow us on Twitter, you can just press this button:

Somewhat Discouraging News?
Those of you who are familiar with this website will know that it is not in my nature to complain. I am, for the most part, an individual with a "glass half full" sort of outlook on life. But (you saw it coming didn't you?) lately I have been somewhat discouraged by what I have witnessed going on.
I hear you saying "How can that be Hugh? You very rarely leave the safety of your Fortress of Solitude (read: bedroom) Don't you just see your astounding array of stuffed animal pals, soiled teacups and dog-earred copies of Golwg?" True enough, but I do own both a television set and a personal computer. The latter is connected (in some way that I do not fully understand) to something called the World Wide Web (on which you are currently reading this! I shouldn't really have to explain all these things. You people are allegedly all grown up now and should be able to figure out some of this stuff for yourselves. At least the easier bits) giving me a bit of a window on the world (I also have an actual window out of which I can see the sky and an alley of sorts). Where was I? Oh yes, I own a TV.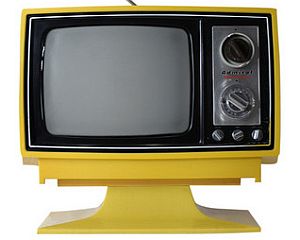 Now while this estimable device allows me to view old episodes of Simon and Simon and new episodes of something called "Storage Wars" (which I watch solely in the hopes of seeing the outbreak of some sort of actual military action wholly contained within a locker or closet), it also presents me with "The News" (if I am not quick enough with the remote when one of my favoured shows comes to a close). My personal computer also inflicts this self-same news upon me whenever I sign out of my hotmail account.
Therefore these two electronic boxes, which I, more or less unwittingly, allowed to be placed within my sanctum sanctorum, provide me (sans my even requesting such a thing) with a lot of information about what is going on out and about in the world. Much of it is not good and I can't say that I am entirely pleased.
For instance, I just learned today that not only is the ice thingy at the North Pole getting quite a bit smaller but the one at the South Pole is growing! This does not seem at all fair. And are we not now in danger of getting seriously off balance? And if that happens do we spin out of orbit and crash into the sun? I don't know, I'm asking.
Now this is information I could happily have done without. After all there really isn't anything I can personally do about it. Well, I guess I could go down there with a bunch of ice trays, fill them with ice and then take them back up north but that seems like a pretty expensive proposition to me. I suppose if one had a lot of air miles saved up it might be possible.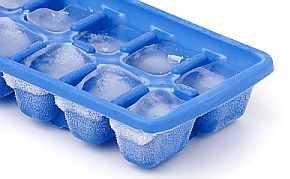 It just occurred to me that I get air miles every time I go to the liquor store! With a bit of effort I could really start saving up points and then make the trip. You know, if we all just drank a little more maybe we could make a real difference. I think I am going to get started today.
Maybe I'm all turned around on this news thing.
Hugh Briss
The Orangutan and the Tarsier
Not a Love Story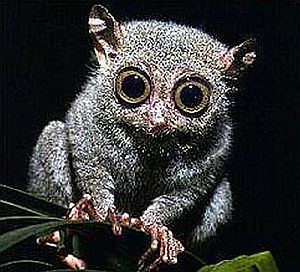 He had much to say, the orangutan did, and she listened quietly with wide eyes. What choice did she have? He was a talker. She didn't mind that so much. Being somewhat shy herself she was generally more than okay with someone else doing the talking.
She didn't even mind the volume at which he spoke. After all, it was pretty loud in the restaurant. Maybe he just wanted to make sure she could hear him. She could.
The particles of food that flew from his busy mouth, falling on the tabletop like a spring sun shower, worried her a bit but none of them had hit her in the face yet. So that was good.
The hairy paw that he insisted on laying across the back of her neck for their entire conversation did make her a little uncomfortable. That's true. But she assumed it must be a cultural thing. He probably didn't even know he was doing it.
But what was really starting to get to her was the fact that the toes of his left foot, which was resting on the banquette right beside her, would not stop fiddling with the edge of the table cloth on HER SIDE OF THE TABLE!!!!
C.F. Maynard
---
Exciting Launch of Ebooks and Website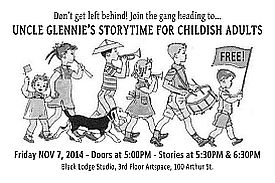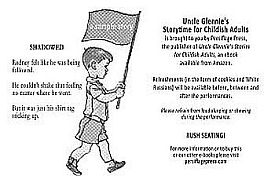 On November the 7th, 2014 at 5PM Persiflage Press will be officially launching its website PERSIFLAGE PRESS and debuting two new (ish) ebooks:
The Mystery of the Lost Lenore and Uncle Glennie's Stories for Childish Adults.
Uncle Glennie will be reading selections from the latter. C'mon out and join us! There will be refreshments and two 20 minute readings.
In the Black Lodge Studio, 3rd Floor Artspace, 100 Arthur Street, Winnipeg. Doors open @5PM. Stories @5:30PM and 6:30PM.
And don't forget to listen to Uncle Glennie on the radio! He will be on Eat Your Arts and Vegetables (hosted by the perspicacious Derek Brueckner and the ebullient Aleem Khan) November 6th at 5:30PM.