September 22nd, 2011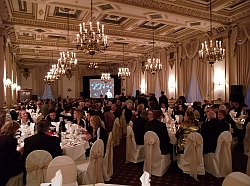 You never know when you're going to be invited to something you don't deserve to attend.
Patricia Marx
---
Classifieds
For sale: used turtlenecks. Only one owner - the original turtle. Box 40.
I am looking for any survivors of the original expedition to find the Smitty's in Transcona. If you were part of that group I would love to hear from you as I am writing a book on the various quests for pancakes that took place in Winnipeg in the last century. Box 1996.
Free! Bossa Nova lessons! Learn how to bossa nova this season. Surprise your friends with your much improved bossa nova skills at New Year's. Anyone can bossa nova - whether you are 8 or 80 (or some age in between). Also a great way to stay in shape! I am Bob the Bossa Nova Guy. Box 3.
Single slice of American Cheese seeks other patriotic cheese slices who want to band together to keep those fancy European cheeses from screwing up our way of life. Or if that isn't possible two slices of bread would be nice. Box 1776.
For rent: spacious apartment in downtown Vancouver. With ensuite airstrip and sports stadium. 63 bedrooms all with their own full bathrooms. 7 billion dollars a month. Available immediately. Box 11.
---
Tips for Fall Living
The key to surviving winter is adequate preparation in the fall. Try keeping your head in the freezer for an hour each day this month.
---
---
---
Want more email? Just ask.
Letters to Persiflage
Dear Persiflage,

I have long (13 metres) enjoyed your website. I especially like the issues that feature letters from readers. Are you planning another one of those soon?

Sincerely,
Inquisitive Fellow From York
Dear Iffy,

Yes.

Sincerely,
Hugh Briss
---
Dear Persiflage,

We represent an organization that is dedicated to dedicating things that have not yet been dedicated.
Last year we suceeded in dedicating a large number of objects, events, places and feelings to a wide variety of things, people, events and notions.
We are perhaps most proud of the fact that we succeeded in dedicating an odd feeling of unease felt by a guy on a Regina city bus to the Notion That The Gloves I Was Looking For Were in the Hall Closet. We consider it our greatest achievement to date.
Would you be interested in dedicating some of the punctuation in an issue of Persiflage to the dipthong "ae"?

Sincerely,
The Dedicators
Dear Deadweighters,

Sure. What the hell. Consider it done.

Sincerely,
Hugh Briss
---
Dear Persiflage,

I like funny stories. How come you never have any on your website? I would like that.

Sincerely,
Petey
Dear Petey,

Persiflage is not a frivolous enterprise. We can't be changing our mandate simply because of letters like yours. We will continue to post serious fiction for serious readers. Perhaps you should look elsewhere for your cheap laughs.

Sincerely,
Hugh Briss
---
Dear Persiflage,

What do you recommend for dog bites?

Sincerely,
Ouchie
Dear Ouchie,

Try and get a really good grip and hang on. Wrists and ankles are probably easiest to grab.

Sincerely,
Hugh Briss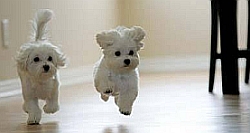 More Letters to Persiflage
Dear Persiflage,

Many times I have gazed out my window and thought "Gee, it sure is dark out there." This happens mostly at night. Do you have windows at Persiflage?

Sincerely,
Wondering about Windows
Dear WAW,

We do. We all love the out of doors especially when we are safely separated from it by some hard material. I too often find myself gazing out the window at the parking lot below and thinking "what if cars were made of chocolate?" We are not that different you and I.

Sincerely,
Hugh Briss
---
Dear Persiflage,

You should feature more stories that feature talking or singing pickles and the hilarious adventures they get embroiled in. I am a singing (contralto) pickle myself and just last year I was caught up in a bank heist that went horribly wrong and several people ended up in hospital. I think a story like that would be worth, oh, say 500 dollars. What about it?

Sincerely,
Bodo Bichelheiser
Dear Mr? Bichelheiser,

Our readers are not interested in your sordid tales of life amongst the demi-monde. Please peddle your purloining pickle prose elsewhere.

Sincerely,
Hugh Briss
---
Dear Persiflage,

I am studying to be a Wizard air freshener but I seem to have misplaced my wand and it is really starting to smell in here. Suggestions?

Sincerely,
Merlin the So-So
Dear Merlin,

We like potpourri.

Sincerely,
Hugh Briss
---
Dear Persiflage,

I regularly spend 6 - 8 hours a day on the Internet. A lot of that time is taken up with labouriously typing in url addresses. What I was wondering is this - have you ever considered shortening your web site's address? I would suggest P.

Sincerely,
Mr. Helpful
Dear Full,

I don't even know where to begin in answering your letter. Are you familiar with the concept of bookmarks? These are bits of paper or cardboard that are used to keep your place in a book you are reading. You should get a bunch of these and start reading books instead of spending so much time on the computer.

Sincerely,
Hugh Briss