For Sale
For Sale: Some stuff I don't want and would probably give away or throw out if push came to shove. But I'd really like it if you offered me something for it. I'd list off what there is but it's really all garbage and not worth the effort of sorting through. Some of it smells besides. Reply to Box 2… aww never mind.
---
For Sale: Things? Have I got 'em. Yes, yes I do. And you can have 'em if you've got the green. Gimme a call: Crazy Uncle Al's Junk Barn (Satisfying all your junk needs since sometime last year). 555-4342.
---
For Sale: a carbuncle allegedly removed from the right butt cheek of David Lloyd George. $150 OBO.
---
For Sale: business cards with some guy's name on it. Can't quite make it out as they're pretty soiled. Some torn. 3 bucks OBO. Contact "Reggie", the guy standing next to the other guy on that corner, you know, near that coffee shop with the blue awning on Portage. Act quickly. Going fast.
---
For Sale: Signed first edition of Ethan Hawke's Hottest State. Unfortunately signed by Ethan Hawke. $2 OBO. Box 24.
For Sale: the collective integrity and hard won principlesof our entire organisation. Price: an outrageously large sum of money (actually $3550). Contact PERSIFLAGE. (please!)
---
For Sale: Do you have a child who is somewhat less sharp than a bag of wet mice? Trouble finding toys that don't just confuse and upset him or her? Try Toys for the Not Too Swift. Now available: Extremely Easy Bake Oven and Lite Not So Brite. Send for our catalogue: Dim Bulbs Toys Ltd., Minor Skirmish Creek, Michigan. 56785
Rentals
Tired of owning your own home? Property taxes and repair bills got you down? Have you ever considered renting? Tired of all these questions? Well, I'll stop then. For rent: 1 smallish room with sink and bath and toilet. Avoid the hassle of having a bed, the tub is quite comfortable when it's dry. Enjoy the many drop-in visitors. Tenant would be better off without a keen sense of smell. Reply to Box 3487.
---
House to rent well within walking distance of downtown (Boissevain, that is). 2ish stories (I wouldn't chance the second floor if I were you) and a lot of extra stairs (piled in the dining room). Available September 31st. Box 35.
Education
If there's no business like show business and every thing about is appealing then why aren't you part of it? You can be. It's time to enroll in Uncle Henry's Show Biz Academy. Uncle Henry has been turning out trained performers like hotcakes since 1999. Can he turn you out? You betcha. Visit our website at www.unclehenrysshowbizacademy.edu
---
We would like to apologise for an error in the above classified. In an advertisement for Uncle Henry's Show Biz Academy we stated "Uncle Henry has been turning out trained performers like hotcakes since 1999." That sentence should have read: "Uncle Henry has been turning out trained performers who like hotcakes… " We are sorry for any problems this may have caused.
---
Services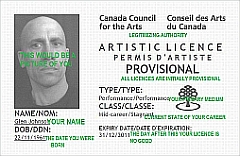 ARTISTIC LICENCE BUREAU The Canada Council for the Arts has opened a pilot office in Winnipeg for the issuing of Artistic Licences. The bureau, which is the first of many planned, will be open from August 5th to 26th at 121-100 Arthur Street between the hours of 12PM and 5PM Tuesday to Saturday. A gala grand opening will occur August 4th beginning at 7PM.
Travel
Looking for a place to spend a quiet weekend getaway? A honeymoon or rekindling an old relationship? Why not think about Uncle Earl's Cot and Scoff, a delightful variant on the regular Bed and Breakfast. Inquiries: Uncle Earl's, Box 4586, Honeyman Lake, MB.
---
Did you always want to see France but couldn't afford the price of the flight? We are now offering bus trips down to the library to see pictures of France. Lo-Cost Vacations! Box 112.
---
Summertime is an ideal time to go someplace to camp. Do sun dappled shores, deep clear blue waters, sandy beaches, cool evening breezes and beautiful sunsets sound good to you? If so then Wood Hut Land is not the campground for you. But if you are a fan of garbage pits, gravelly roads, low scrub and blackflies, then you have just found your ideal vacation spot. Book now. Box 4018.
Wanted
Wanted: very small people who love to work with pointy things and possess an uncanny ability to read the movements of the clouds. Must have own transportation. Box 4.
Wanted: people willing to mess with Texas. Box 1836.
Personal Ads
Women seeking men
I am a single woman with a passion for fine cheese and fine wine. I am also partial to mediocre beer and downright lousy onions. Surprisingly enough I love fun. Call me at #378.
Men seeking women
I'm the kind of guy who you will find at the bar on the weekends and at work during the week. I like to sleep at night. Three times a day I eat food. Occasionally I use the bathroom. I met Alan Hamel once, ask me about it. Call #45.
Women seeking women
I'm recently out of a relationship and I'm in a big hurry to get back into one because…well I'm not sure why but I am. If you are a woman between the ages of 18 and 18 and a half and love Golden Girls (the TV show and I really don't mean anything else by this) call me at #78.
Men seeking men
Most of my friends don't know that I'm gay. Which is surprising because I've told them all repeatedly. If you have superior listening skills and no body hair (I'm flexible on the first point) call me at #14.
Others
I am seeking woodland fun of the type I had as a youngster. If you are small and furry and quite open-minded give me a call at #23.